Check out Maestro's College Football Hot Takes, Week 1 College Football Picks, Music, and Sports Thoughts.
Are you ready for the first "real" weekend of college football!!? Yeah, baby!!!
Maestro's Music Box
During the course of the season, I am excited to share some of my music with you.
This week, I'm pleased to share "Pretty Chill"
Kickoff
Non-Football
I wrote some thoughts about the Carolina Hurricanes and their signing of Jesperi Kotkaniemi to an offer sheet. Therefore, please take a moment to check out one of the best "petty" front-office moves ever.
…
Hot Takes from Thursday Night
NC State vs South Florida
NC State looked very (almost scary) good.
293 rushing yards.
Pitching a shutout
I don't know how good South Florida is/was supposed to be, but MAN… pitching a shutout tells the world NC State is to be reckoned with.
The last time remember seeing the Wolfpack dominate a non-FCS/non-Division 1AA opponent on its home opener?
1986, against my alma mater — East Carolina
Speaking of (since I watched more of ECU/App State)…
ECU vs App State
Where was "THIS" Chase Brice last season? Asking for my Duke football buddies.

Why does any coach call for a FG late in the 4th quarter, down 33-9? To quote the late Bernie Mac: "What the f— are we trying to prove here?"

It pains me to see App State bypass ECU in football. My alma mater, and its rabid fanbase spent years/energy pursuing the "big time". Yet, here we are in 2021 and App State extends it winning streak over ECU to 5 games.
---
Let's get to my first 3 football picks for this season!!
All season long, I'll present 3 picks per week — I like knowing if I had a winning weekend, or a losing weekend.
I'll make an "against-the-spread" pick that you can take to the bank.
I'll also offer an "unofficial" score prediction — don't take that to the bank, unless I'm right. 🙂
VIRGINIA TECH (+5.5) vs North Carolina
I really thought about taking the OVER (64) as these two have combined for 84 and 101 points in the previous two games.
It won't be surprising to see Carolina win on Friday night. I just don't believe they'll cover the -5.5.
Virginia Tech will be looking to redeem itself from a uncharacteristic, sub-par 2020 season. In other words, the Hokies will be motivated to open strong at home.
And especially against a preseason top-10 division foe. Therefore, I believe this game will be closer than 5 points.
I can see Carolina giving Virginia Tech's offense fits. I can also see Virginia Tech's defense forcing Sam Howell to beat them with new weapons.
Who is going to replace Michael Carter, Javonte Williams, and Dyami Brown…? Will they step up?
We'll see.
North Carolina 33, Virginia Tech 30
---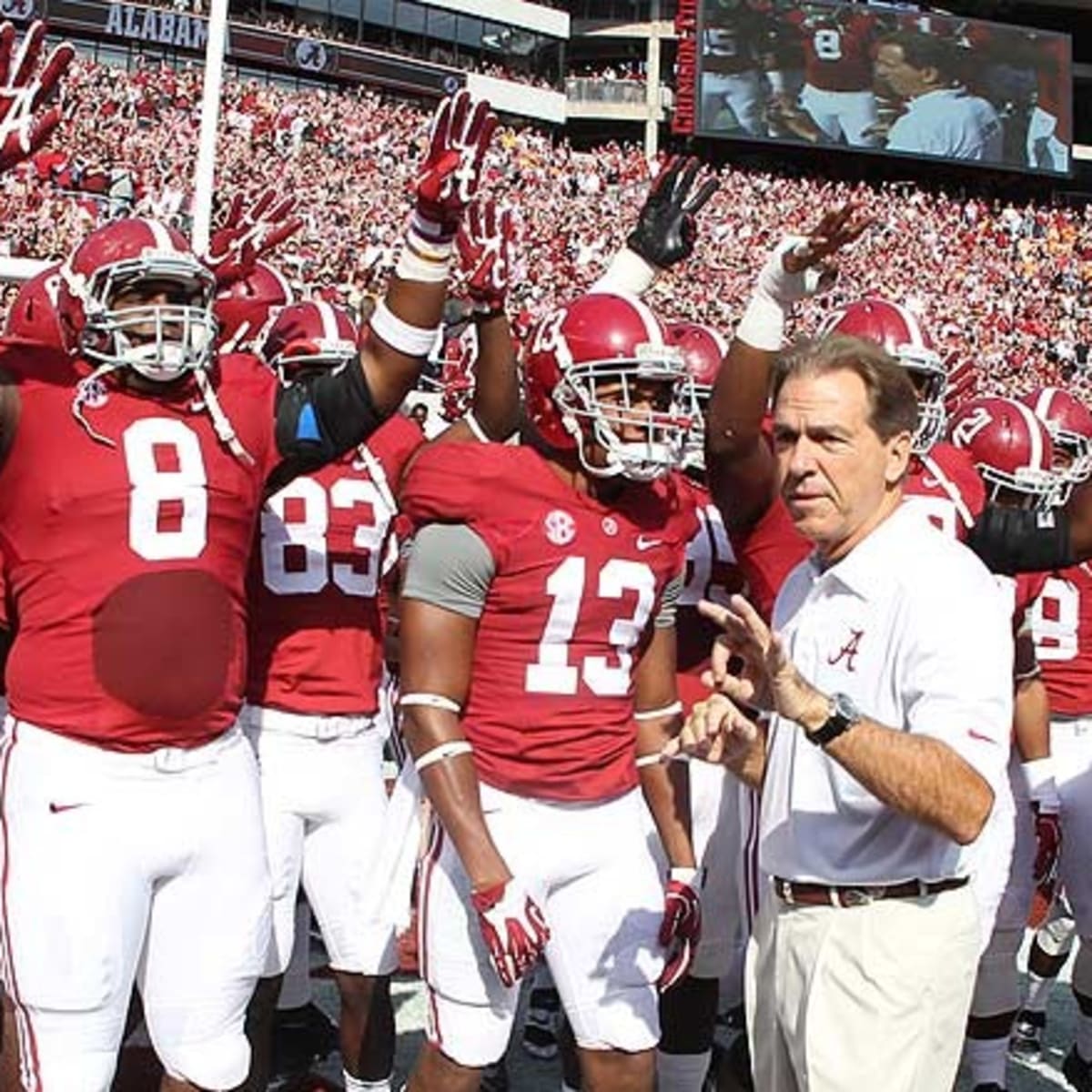 Alabama (-19.5) vs Miami
D'Eriq King is getting his share of media attention. That also means he's getting his share of attention in Nick Saban's defensive meetings.
I can see the defending champs totally focused on shutting down King. That also means Miami's defense will be on the field more than desired.
Miami either gets routed early, or fades early enough in the 4th quarter. Either way, I can see 'Bama winning by 3 TDs.
Alabama 34, Miami 13
---
Georgia (+3) vs Clemson
I am excited about the potential of "Big Cinco" — Clemson QB DJ Uiagalelei. Will he build on the promising potential he showed last season?
I am concerned about Clemson's defense against the returning talent for Georgia (JT Daniels, Zamir Smith, et. al). So much so that I'm taking the points for tomorrow's game.
Being tested for most of the game by Georgia's defense, I can see Uiagalelei leading the Tigers down the field and setting up a game-winning FG.
B.T. Potter, you're up. Don't miss, son.
Clemson 22, Georgia 21
…
That's all for this week.
Below are the games I plan to pick next weekend:
NC State at Mississippi State
Pitt at Tennessee
Illinois at Virginia
PLUS, the first set of NFL games!
PLUS, more music from my vault!
AND ALWAYS, my thoughts on sports!
Thanks for stopping by.
-derrek