Welcome (back!).
I took last week off, with the idea that I'd recharge for the sprint run to the end of the college football season.
…
I hope your week was as successful as you wanted it to be. For those with "Honey Do" lists, I'm with you.
We put up the Christmas tree yesterday — the first time I've put up a tree prior to Thanksgiving Friday.
We're having guests over for Thanksgiving and Baby Girl wants to have some decorations in place – I can respect that.
If you're working on your "Honey Do" list, you'll likely need some good music to cheer you up…
Maestro's Music Jukebox
It's been quite a while since I've shared some of my music with you. One of my favorite tracks from my 2018 CD — "The Maestro Project" is "Detour".
While I was out doing part of my "Honey Do" list, I pulled this song up, said, "I really like this track — let's share it!"
Sports Hot Takes
"Introduce A Little Anarchy, Upset The Established Order, And Everything Becomes Chaos!"

The Joker in "The Dark Knight"
If there's one thing I love about College Football, it's the "Chaos" that shows up towards the end of the season.
We all hope a team (or teams) will upset the established order. For fans outside of Tuscaloosa and Columbus, we want to see something new in the College Football Playoff field.
Cincinnati has given fans something to root for. They appear to have upset the apple cart (at least for now).
..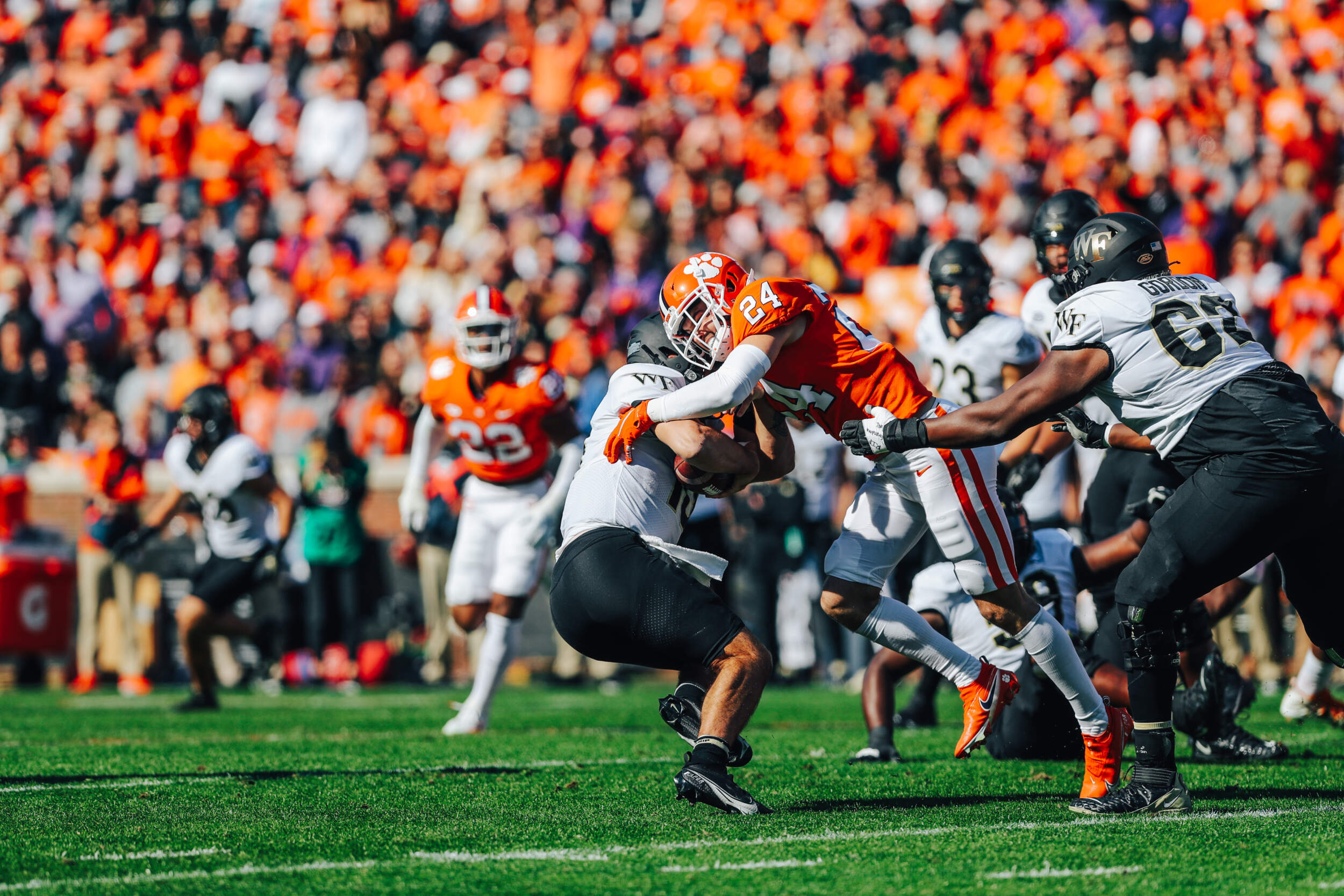 ACC Atlantic Division Chaos/Anarchy
Normally, "chaos" is associated with the Coastal Division where we've been treated to 2-, 3- and sometimes 4-way ties for first place.
This season, anarchy and chaos has been associated with the Atlantic Division ever since NC State defeated Clemson in September.
Wake Forest won, and continued to win — and while many were excited, some of us (me included) were just waiting for "chaos".
Even after Wake Forest defeated NC State last weekend, we waited.
Finally, Clemson handed Wake Forest its first conference loss. Soon thereafter, NC State defeated Syracuse.
Chaos was upon us — and I'm here for it.
We have 3 scenarios in play for this weekend's pursuit of the Atlantic Division title.
Wake wins the Atlantic with a victory at Boston College
Sounds simple, doesn't it?
If you're like me, you looked at Wake's closing schedule and thought, "The last two games I want to see if I'm a Demon Deacon fan is 'at Clemson' and 'at Boston College'."
If there's one thing BC loves to do when the thermometer goes below 50-degrees, it's run the ball. That's also the one thing Wake Forest has struggled with in its losses at Carolina and Clemson.
Clemson, for its part, pretty much gave BC's coaching staff a blueprint on how to give Wake Forest fits on Saturday.
Clemson wins the Atlantic if North Carolina and Boston College win
I'm pretty sure somewhere in the Clemson locker rooms, Dabo said something like this to his players…
"Fellas, the race is not given to the swift, nor to the strong — but to the ones that endure until the end (of the conference race)".
Somehow, despite all of the injuries, poor QB play, and everything…
Here are the Tigers, in the proverbial clubhouse with 2 losses, with a legit shot at the unlikeliest of repeats.
NC State wins the Atlantic with a win over North Carolina and a BC win
It's either NC State **** (again!), or all of us celebrating the fact NC State beat Clemson and North Carolina in the same season for the first time in 10 years.
If the Wolfpack wins on Friday AND BC wins, I'm not sure there will be many fans who will complain.
—
Carolina Panthers / Cam Newton
For once, we can honestly say, "The Carolina Panthers QB wasn't (at least partly) responsible for a loss."
Cam looked respectable in his return to BoA Stadium — he missed some throws, was trigger shy on some, but he threw several good balls, and showcased his legs when needed.
CMC looked very good when he got the football. I just wished he had more carries. How does he only get 10 carries?
The loss to the "Football Team" can be attributed to two places:
Defense couldn't get off the field in the 3rd quarter.

I don't think the Panthers run a 4-2-5 scheme, but it sure looked like it. Where were the linebackers when we needed them in the 3rd quarter…?

Offensive play-calling – again.

CMC only had 10 carries.

Chuba Hubbard had like 20-some a few weeks ago in Atlanta — arguably the best game called by "Wonderboy" Joe Brady.
Oh, and one more thing…
Taylor Moton – just like when I'm playing Madden, when there's an untimely "holding" call, it's ALWAYS this guy.